Bloggers and businesses have been using Pinterest to promote their brand for a while, but only recently has Pinterest seemed to catch on to this fact and help the process. Pinterest's latest update has been to allow accounts specifically for businesses. This is great news for people who weren't sure how to fill out the first and last name boxes with the name of their business. Also great because this included Pinterest analytics!
Previously on this blog, we've discussed Facebook Analytics, Twitter Analytics, and even Instagram Analytics. And now we're going to move on to Pinterest!
In order to view your account's analytics, you have to be a business account. This is kind of a bummer for anyone who's "business" is promoting their own blog. I think, however, there are ways around this. You can say that your blog is your business, seeing how it does have its own website.
If you already have a Pinterest account set up for your business before this update happened, you can convert your account to a business one. It's annoying, but it works. You do have to verify your website, but there are lots of tutorials available about that. You can find some awesome Pinterest tips and tricks and tutorials here and here.
Once you have your business account set up and your website verified, analytics should be available!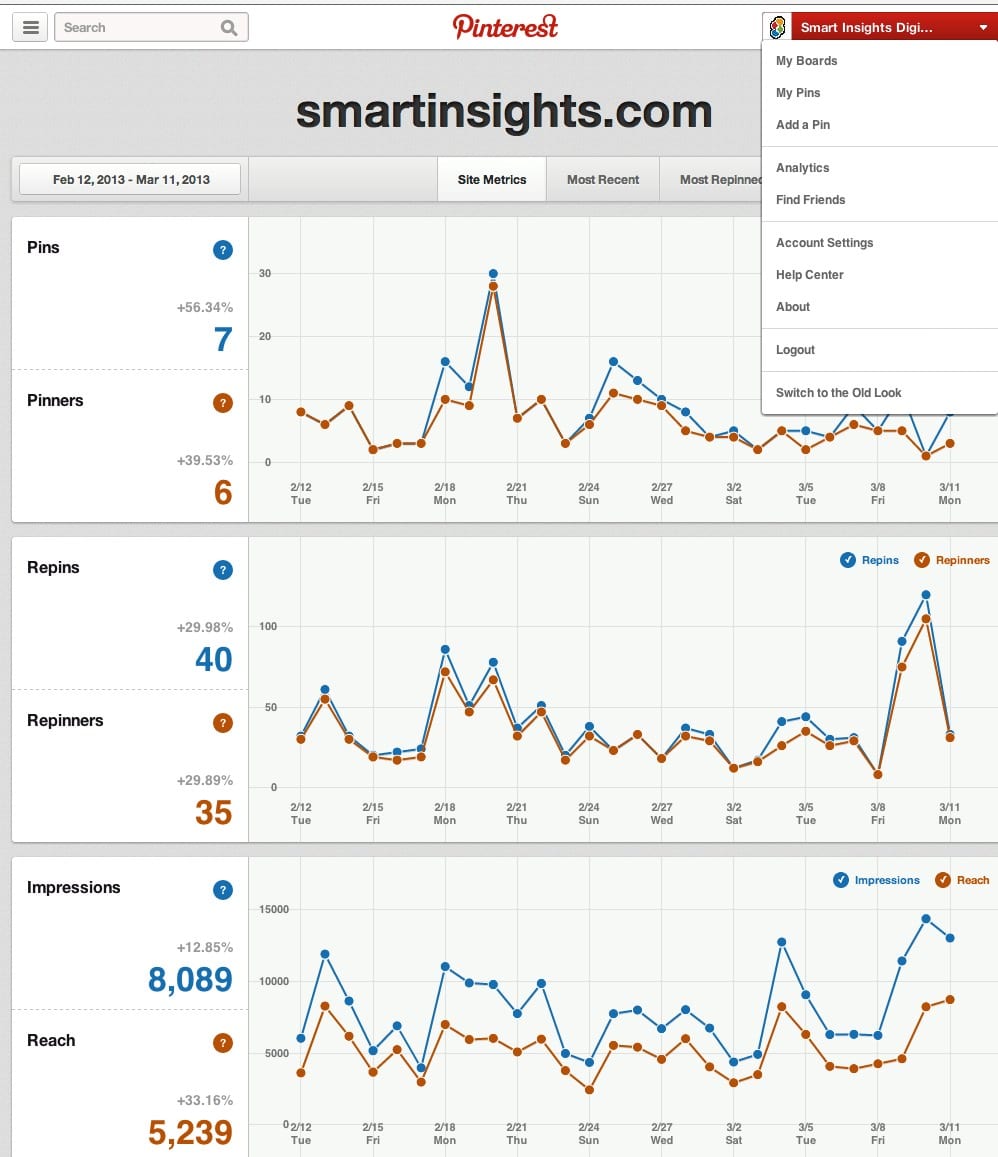 Like it shows in this picture, "Analytics" is under your account's drop down menu on the right. Under "Analytics" are the subheaders "Site Metrics," "Most Recent," "Most Repinned," and "Most Clicked." Like other social media analytics, this will give you insight into what your most popular posts are. With this information, you can easily see what topics your audience is interested in and what images appeal to your audience.
"Site Metrics" will also tell you when your audience is most active. Unfortunately, this data isn't totally conclusive. As you can see from these charts, Pinterest will not tell you when your followers are online. You'll only see when they repinned your pins. This data can be skewed by when you've pinned and other similar factors. It can absolutely give you a good idea – for instance, in the above picture, the most repins were done on the weekend. This would tell you that you should pin more on the weekend.
In the section above that, you'll see how many people pinned images directly from your website. This can help you determine your site's functionality. If you aren't getting a lot of direct pins but an oddly disproportionate amount of repins, then you know that your content is fine, but your website isn't very Pinterest-friendly. Try to find ways to optimize your website for Pinterest, such as adding "Pin-it" buttons on your pictures.
It's also nice because you can see how many people saw your pin versus how many people clicked through to your website. This can tell you that you need to make your pins more alluring. Look up some methods that other successful pinners have used, especially one how to optimize individual pins.
Have you used Pinterest analytics yet? What do you think of this new tool? Has it been helpful for your business? Let me know by commenting below!